2022 – 2023 PRAMP Annual Report
Committed to Collaboration
We welcome you to read our Annual Report for a summary of our 2022-2023 revenue and expenses, a list of our Board of Directors and more details on PRAMP's initiatives over the year, including:
Highlights of engagement and education activities on air quality issues
Monitoring highlights from our station operations
Monitoring in the Peace River area began as a collaborative effort and we are committed to continuing that collaboration as PRAMP contributes to the air monitoring network for the Peace River region, Alberta, and Canada.
Read the 2022-2023 PRAMP Annual Report now! Reach out if you have questions, ideas or would like to get involved with some of the exciting things we are doing at PRAMP to support healthy air in the Peace River area.
---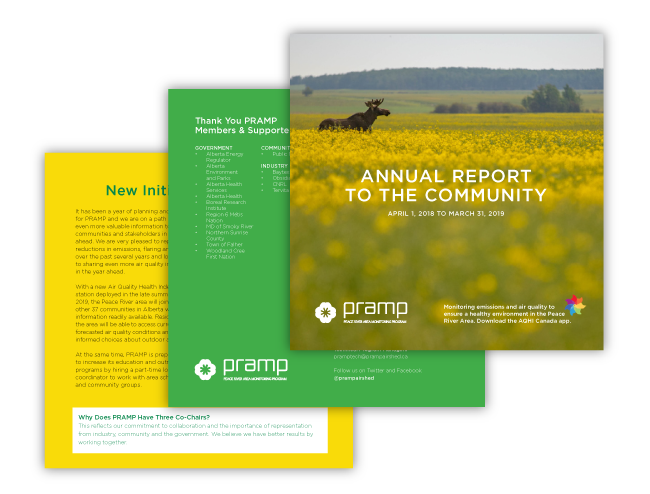 Read previous years' annual reports to the community:
2020 – 2021 PRAMP Annual Report
---
2019-2020 Annual Data Review
Each year PRAMP prepares an Annual Data Review that reports and analyzes its monitoring data for the previous two years. A summary of long-term trends as well as monitoring data from other areas of Alberta are also presented. Three types of data are included: continuous monitoring, meteorological measurements and discrete canister samples. We invite you to review the reports and contact us with any questions.

---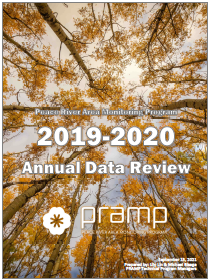 Read the 2019-2020 Annual Data Review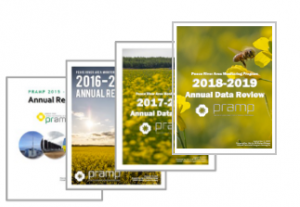 Read previous years' annual data reviews:
2018-2019 PRAMP Annual Data Review
2017-2018 PRAMP Annual Data Review
2016-2017 PRAMP Annual Data Review
2015-2016 PRAMP Annual Data Review
---
Annual Provincial Air Quality Report
Alberta Airsheds Council has prepared this 2022 Alberta Airsheds Air Quality Report to provide a summary of the air quality data that is monitored and collected in our province by Alberta's Airsheds, including PRAMP.
This information is important to share with Albertans because air quality affects our health and our environment. Click on the report to read about the state of air quality in the province.